Live & Work in Central Istria
Combining nature with remote work in Central Istria
Visual concept design and landing page development for a campaign aimed at attracting digital nomads to Central Istria.
User Experience / Interface Design / Copywriting / SEO / Paid advertising
User Experience
Interface Design
Copywriting
SEO
Paid advertising
Overview
Croatia is one of the first members of the European Union to legally regulate a one-year temporary stay for digital nomads from third countries. The first residence permits were issued at the beginning of 2021, which resulted in increased interest in Croatia as a destination for digital nomads.
In order to attract this specific group of people to Central Istria, the Tourist Board of Central Istria entrusted us to develop an integrated marketing campaign. First, we came up with a visual concept for the whole campaign. Then, as one of the main communication channels, we designed and produced a landing page containing all important information about the region.
Project Idea
Due to the target audience specifics, the website feel had to be catchy. It was essential to communicate Central Istria's advantages and present it as an ideal destination for remote workers.
For this project, the following goals were set:

merge the new project logotype with the main brand one
design a visually appealing page that would catch the attention of digital nomads
optimize the content for SEO
promote the website through paid social media and search engine advertising to gain visibility from the start.
Technologies
Frontend: Nuxt.js
The database architecture and application setup hosted on AWS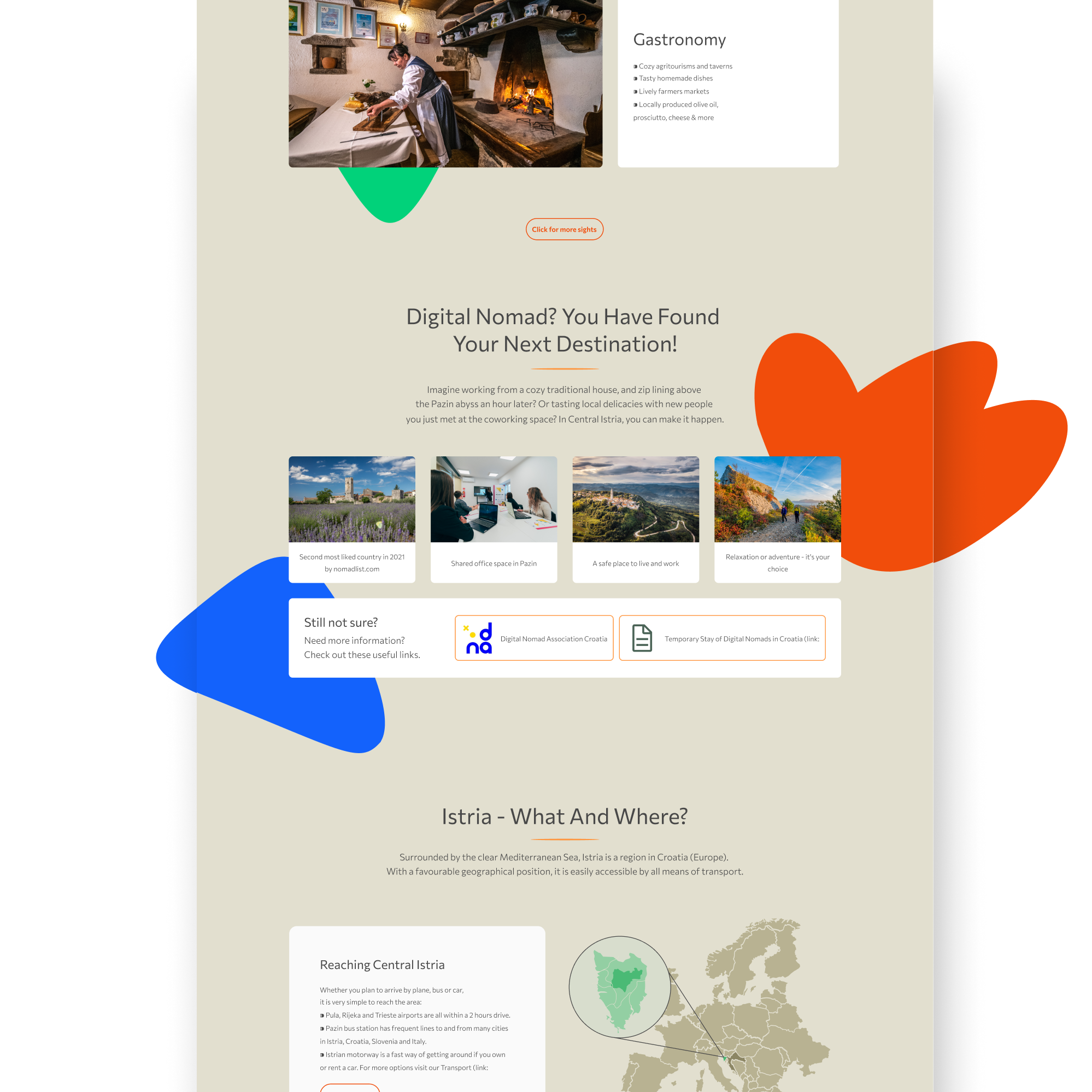 Project Breakdown
We created a simple and intuitive landing page that highlights important details about the area and its benefits for digital nomads, completing the whole look with authentic nature shots. Remote workers interested in coming to Central Istria now have a one-stop place on the internet where they can get information about accommodation, lifestyle, transport and gastronomy of the region.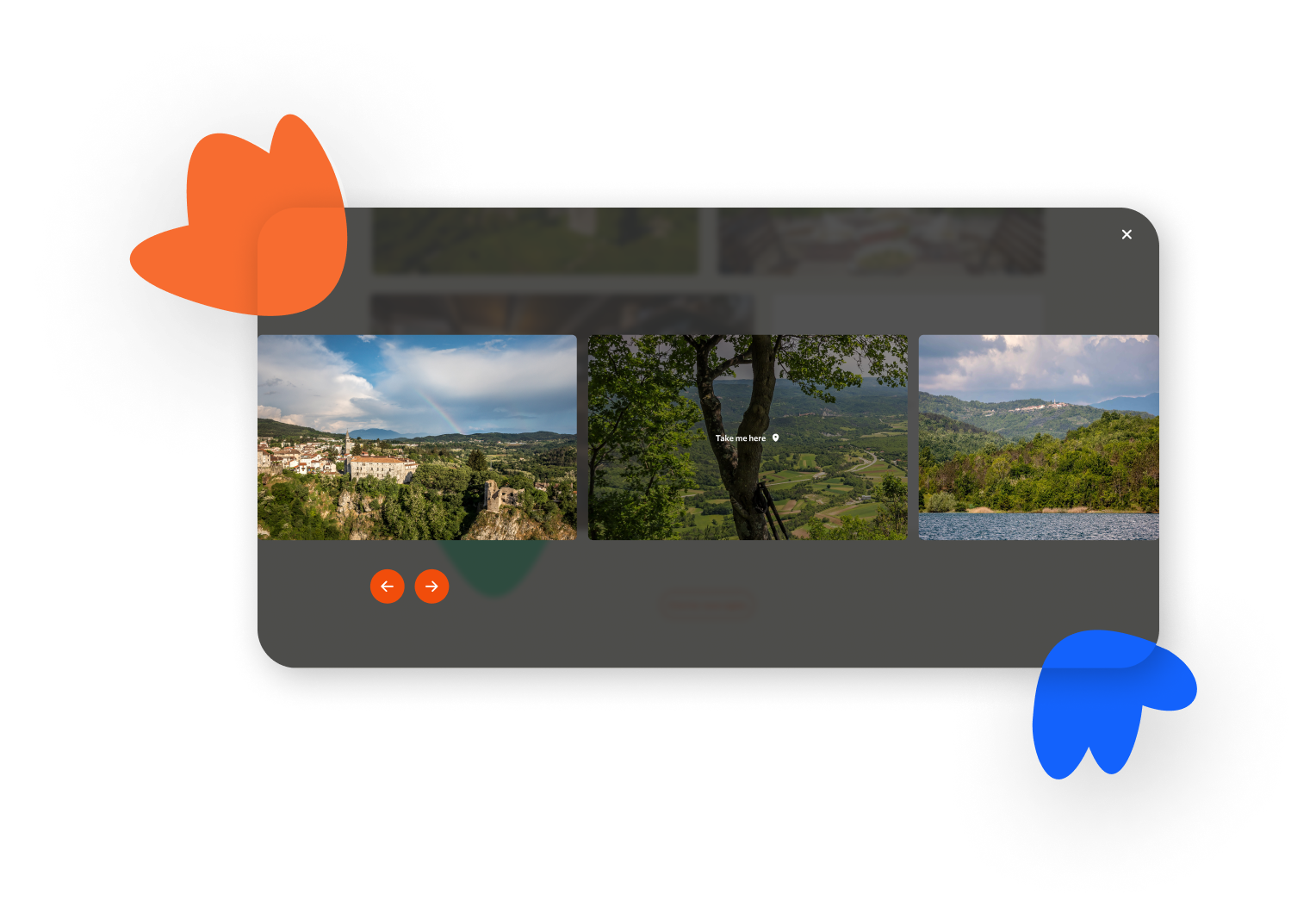 Project Development
The Tourist Board of Central Istria already had a main page, so the page for this project was created on a subdomain connecting it to the campaign name (liveandwork.central-istria.com).
Challenges
The real challenge here was to design the campaign logo, while making sure it is easily merged with the already existing one. So what did we do? We got creative! The triangular shape gave us the opportunity to visually allude to a handle & bag shape. If you want to know more about the process, check out our Behance project page.
Outcome
Briefly - a modern landing page for the modern lifestyle worker. It received great feedback already in the first month, with people from more than 20 countries scrolling through.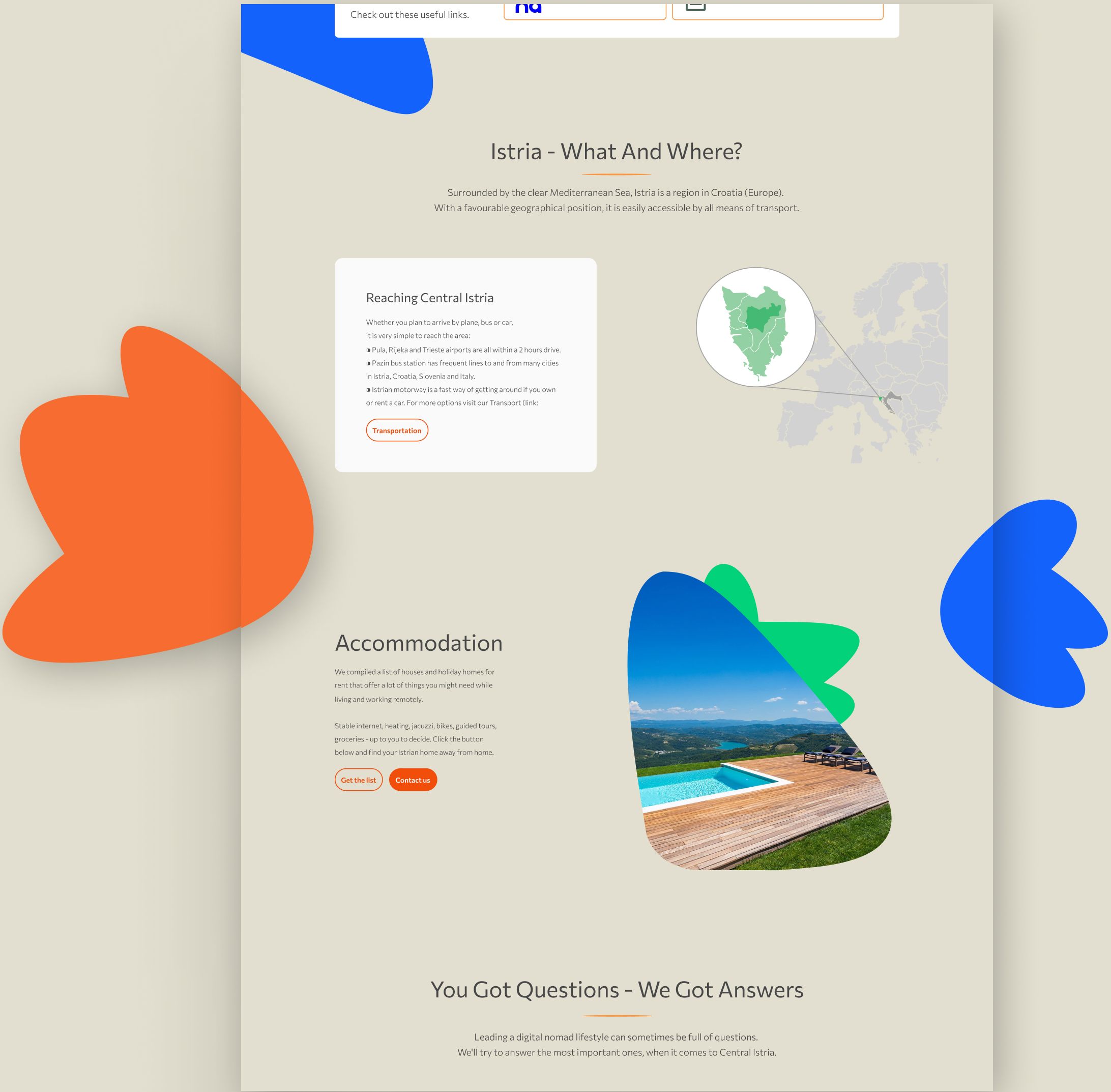 Final thoughts
The landing page deployment was followed by a conference for private renters in Pazin, in order to familiarize them with digital nomads and their requirements when it comes to accommodation. Without false humility, it was a hit, the project was shared (a lot) all over Croatian media, and we believe it is just the beginning.
Got you thinking about how cool it would be to have your brand mentioned in our case studies? Reach out and we can make it happen.
Next story
How we boosted sales for the leading Croatian hosting provider