Back to blogs
Tech & Trends
24. 03. 2023
Welcome to the world of Scrum and Agile!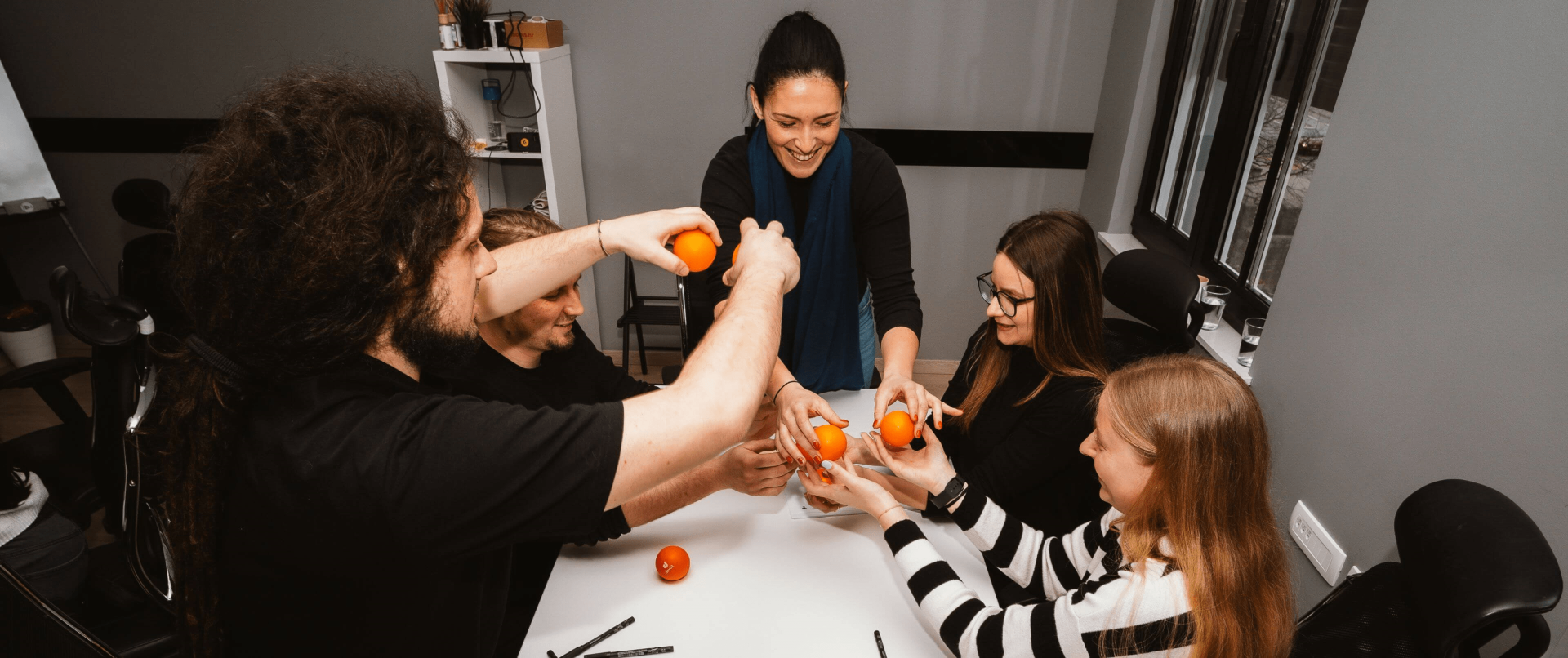 We recently had the pleasure of hosting Josip, Head of Agile Practice from Devōt for a Scrum and Agile foundations workshop at Lloyds digital, and was it an enlightening journey!
As a company that strongly advocates for the agile mindset, we were eager for Josip to share Devōt's experience and expertise with our team. And let me tell you, our team ABSOLUTELY loved it. The two-day workshop gave us not only the "how", but also the "why" we established core agile values, principles, and practices.
This wasn't your typical ex-cathedra lecture where you fall asleep after lunch. Oh no – Josip kept us on our toes with an interactive workshop that had us closing our laptops and fully immersing ourselves in the experience. And who says learning can't be fun? We even played with a ball and Legos in some serious games.
Josip kept the focus on the people the whole time with a detailed lecture plan, planned breaks, and questions that were always in place. Josip praised each question, even the uncomfortable ones.
One thing that stood out to us was the actual discussion of what each team member does for the Scrum process. We learned that the Scrum Master is essentially the person who ensures that the team continuously improves and grows in an inclusive and healthy atmosphere, while also supporting the Product Owner. The Scrum Master doesn't have as much insight into the budget as we thought, and they're not that interested in tasks either. That's where the team and the Product Owner come in.
And speaking of teams, we have to praise all the people who were there because they all actively participated and contributed to the workshop. But it wasn't all fun and games. We also learned that we need to plan more and break down tasks into smaller features to deliver something to the client sooner. This way, we build trust and responsibility towards the client and better cooperation for the future.
All in all, the workshop had a positive effect on both days. There was never a dull moment during the lecture, and even those who were already familiar with Scrum and Agile learned a lot of new things and now understand everything more clearly.
But the most important thing we learned is that alone we can do so little, but together as a team, we can do a lot – said one of our team members.
After the workshop, our team has come to the conclusion that it would be ideal if once a month the whole team got together like this and used games and tasks to look back on the past month's shortcomings and advantages. This way, we can open each other's eyes to things we may not be aware of.
The workshop's interactive nature ensured that all team members were engaged and actively participated, allowing them to gain a clearer understanding of Scrum and Agile. It was an excellent opportunity to learn from an expert and share knowledge with our team members. We hope to implement the principles learned during the workshop and continue to work towards a more agile mindset in our everyday practices.
Conclusion: The Scrum and Agile workshop was a complete success – Promoting collaboration, teamwork, and innovation!
We believe in the power of collaboration to drive innovation and excellence. Hosting Josip in this workshop is just one of the ways we're working towards that goal.
Thank you, Josip!