Back to blogs
Hacks & Tips
03. 02. 2021
Webshop Necessities — Important Things To Take Care Of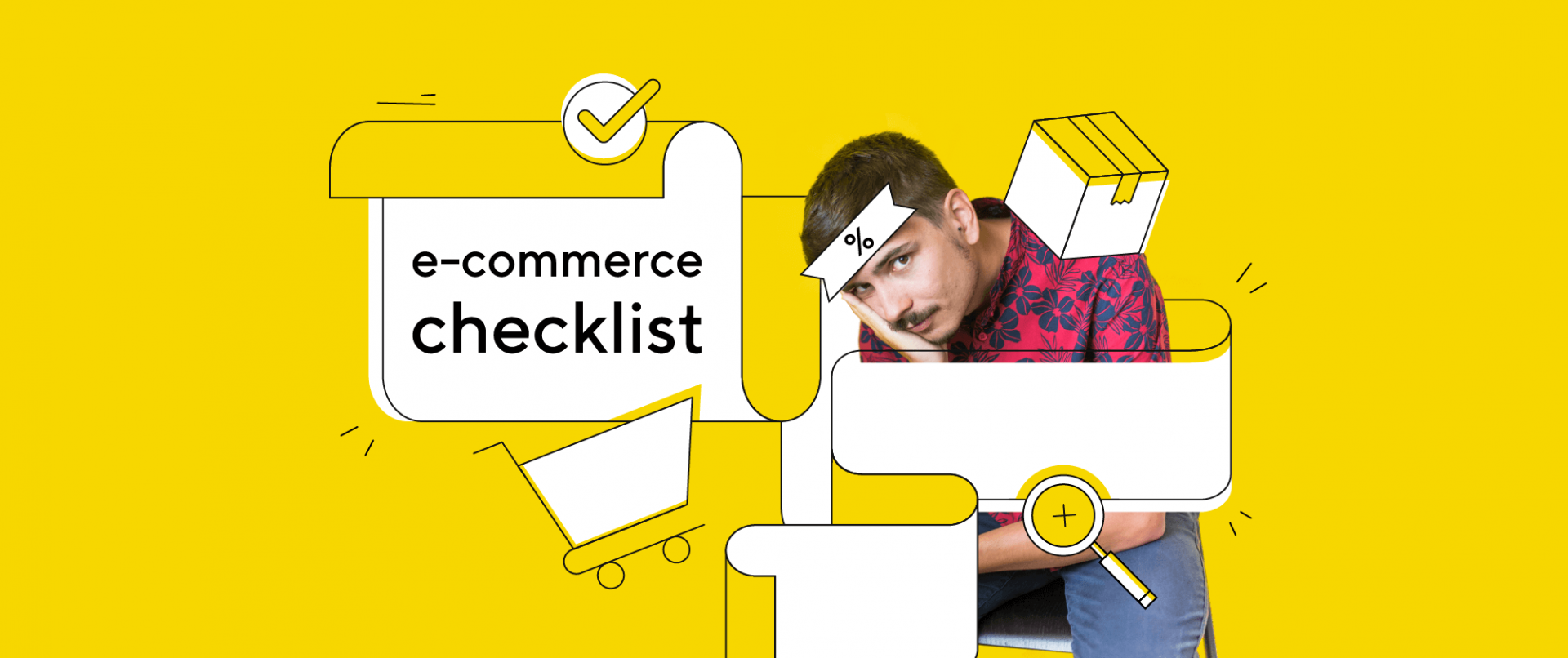 In the business world, all kinds of changes happened and many companies, small or big, had to act fast and make decisions they have never even considered before. The first change that comes to everyone's mind is the ever-loving/most hated — "work from home" (#wfh). Then came the online meetings (or how I love to call them "My connection is poor" meetings.)
When it comes to retail, a new revolution took place. Even though webshops have been around for some time now; it's only now that many businesses realized the actual importance and potential of webshops. Even the laggards, also known as the opposite of early adapters, were now forced to shift to online business, or they could've kissed their ass goodbye.
In this blog I won't be talking about the advantages of owning a webshop or trying to persuade you into creating one, I'll assume you've already understood you need one.
Ah yes, cables is what I was looking for when I went into "computer fans".
I also assume you already know what you'll be selling on your webshop.
First and foremost, you have to define and write the details and specifications of your products and categorize them logically. Keep in mind your customers' behavior and your customers' "expertise". Provide all the relevant information about your products. Categorize them clearly so the users know what products to expect when they click on a category.
Oh, you wanna buy these sunglasses? You might wanna check out these frying pans as well.
If you offer products that are often brought together for the same purpose (for example, nails and hammers, winter hats and scarves, etc.), you might want to consider cross sale.
What is cross-sale? Cross-selling is the action or practice of selling an additional product or service to your customers. If some products are not meant to be sold in a "bundle", cross-sale regardless. It's always a good idea. You are selling socks? Offer them scented candles as well. Even random products being offered over cross-sale is a good thing. You could include both logical cross-sale and random cross-sale — offer something that's usually brought together and totally random stuff.
Free shipping? YES SIR!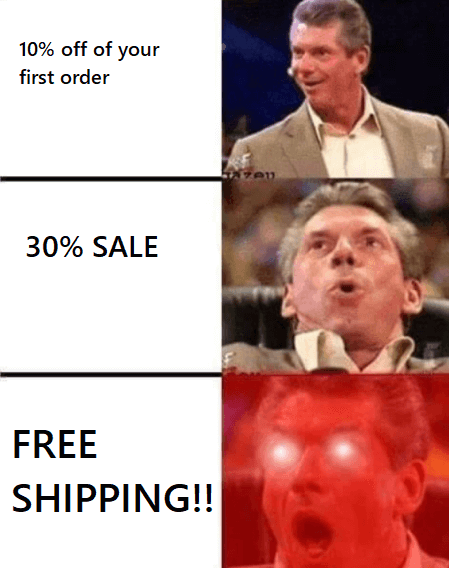 Do you know what people love? Free stuff!
If you want to boost your sales and attract more customers, you might want to consider some discount mechanisms. The most popular and simple ones are first order, newsletter signup and sign up discounts. Another great way to attract customers, and what will most likely make them regulars, are quantity discounts, discounts given when you pass a certain order value and the most popular and loved, free shipping.
When it comes to the sale discounts, you should always highlight them. Put up banners, separate categories with just items on sale. Sales are the best and most popular way to promote your webshop on the internet.
A good way of keeping your customers are the loyalty programs. There are many ways of rewarding your regular customers for staying with you. The most popular way is collecting points — reward them with points for each order. One thing — to make this possible, user registration is required.
"Your order has been shipped!" — a sentence that cheers everyone up
If you do not own a truck or two and do not plan to deliver the goods by yourself, you should consider contracting a courier company. There's a lot of them and depending on your products, you have to pick the courier that suits you the most. Check out the following link for more tips on how to pick your courier.
A neat feature to consider is package tracking. Everyone loves to track their package (personally, I'm one of those who clicks on the tracking link immediately as I receive the email that my package has been shipped). Some of them also have APIs to their tracking apps so you can implement them on your own website.
Webshops lack the physical contact regular stores have. That's why you need to have a good return policy. I strongly suggest making the returns free and find an appropriate return deadline according to the products you are selling. That's a good way to keep your customers happy and make yourself more trustworthy.
"Can I use my credit card?" — american proverb
Like courier services, if you want a successful webshop, you need to have the option for online payment. According to Statista over 69% of customers across all regions use credit and debit cards for their online shopping, so online payment is a must!
But if you are new on the market, an unknown brand, I strongly suggest you offer a cash on delivery option to gain trust from your new customers (that is only the option for domestic traffic).
To have an online payment option, you have to clear out a couple of things beforehand. You have to clear some formalities with the Tax administration about online payment. The second thing you have to do is signing an "electronic payment services'' contract with your bank.
This can take a LONG TIME, so I strongly recommend that you start working on this as soon as you find an agency that will make the webshop for you.
Terms and conditions? More like too long and didn't read!
Some things are mandatory and prerequisites for having the webshop operating, and we went through some of them. The most tedious but extremely important are the legal documents. The one required on every website that asks for any kind of information from their users is the GDPR (privacy) policy. The longer one is the "Terms and conditions" document that covers every aspect of how you operate, such as delivery time, delivery fees, minimum order quantity, return policy, accepted cards, etc. Some webshops break this document into logically separate documents (return policy, delivery policy, payment options).
Setting up a webshop isn't as easy as it looks at first glance, but let that not discourage you. This is the future. The time you'll spend setting up your webshop is well worth it.
These are just a couple of obstacles you have to jump over, but once you are past them you'll be safe. We, in Lloyds design are open to new projects and we know what needs to be taken care of when it comes to webshops. Below, you can check out our 2 latest webshops!
Kutjevo webshop & Forto webshop