Back to blogs
News & Views
26. 10. 2023
Gligora Webshop: A Web Excellence Award Winner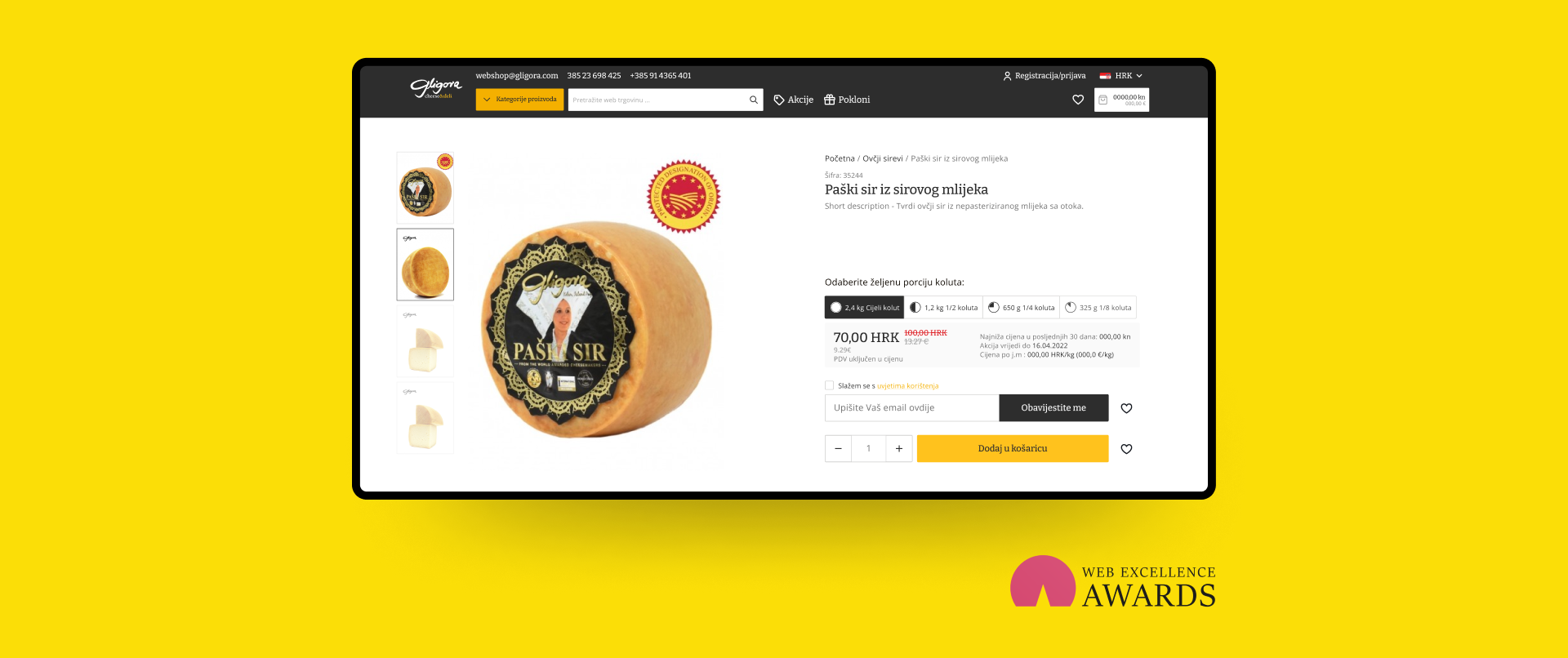 We are thrilled to share our latest achievement: securing the prestigious Web Excellence Award. In a field with over 1,500 exceptional entries from around the world, we have once again emerged victorious.
In the ever-evolving landscape of online shopping, creating a digital experience that not only meets but exceeds expectations isn't just our goal; it's our passion. We recently embarked on a remarkable journey in partnership with Gligora, a revered name in the world of delicatessens. Their vision was clear: to redesign their existing webshop. However, the challenge was unique – to reimagine their online presence, making it more accessible, intuitive, and efficient, all while preserving their cherished tradition and diverse product range.
Crafting Tradition and Innovation
Our collaboration with Gligora was driven by innovation and a profound respect for tradition. The mission was to create a modern, efficient, and user-friendly online store. We achieved this by developing a robust Laravel PHP backend and a sophisticated AWS-based CMS and database architecture. To ensure a seamless shopping experience, we harnessed the power of Vue.js and Nuxt.js frameworks, providing a visually pleasing and user-intuitive platform. Our approach included key functionalities like login/registration, product information, search, and secure payment options, all designed to make the purchase process swift and straightforward. We introduced a customizable dashboard, granting customers access to their purchase history, payments, and statistics, thus personalizing the shopping journey.
The results were nothing short of spectacular. Gligora's products now shine brightly on a platform that makes it exceptionally easy for customers to explore their range. Product details, ratings, and key information are just a click away.
And the pinnacle of this journey? The acclaimed Web Excellence Award, is a testament to our unwavering dedication to innovation, an exceptional user experience, and our deep commitment to preserving tradition.
This achievement stands as a testament to the dedication and expertise of the remarkable team at Lloyds digital. Winning the Web Excellence Award is an acknowledgment of our commitment to innovation and outstanding digital experiences.Our commitment to excellence and the pursuit of extraordinary online experiences remains unwavering.
Kudos to our incredible team and our esteemed client, Gligora, for making this remarkable achievement a reality!