Back to blogs
News & Views
23. 12. 2022
Wrapping up our 2022!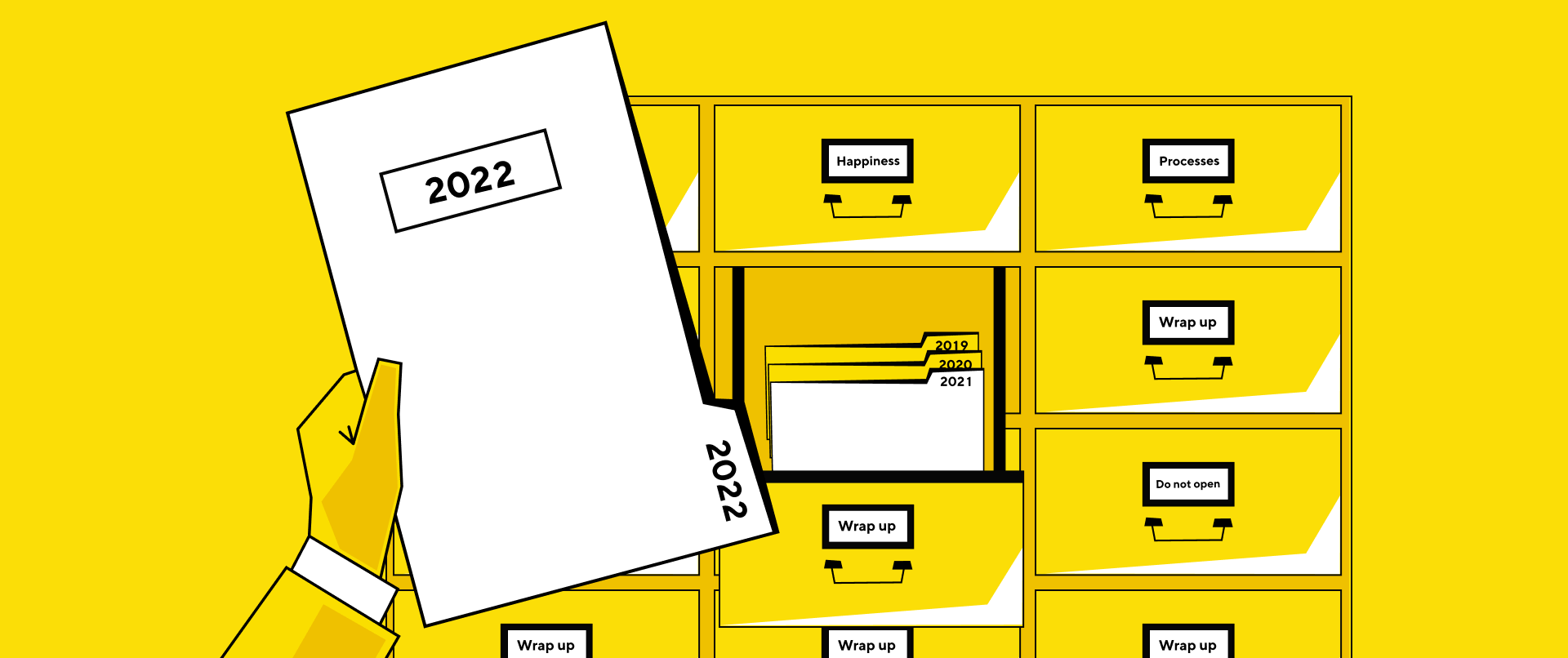 Wrapping up our 2022!
Along with the warm holiday wishes, we have prepared a wrap-up of our greatest accomplishments and important happenings for us in 2022. And we are not going to lie; they are pretty cool – as you will see, this was a big year for us.
We hope your mulled wine is warm and you have enough Christmas cookies to take a look at our proudest moments.
Talent wins games, but teamwork and intelligence win championships. — Michael Jordan
Our office is always busy, but we find it a fun and lovely workplace. We work hard and fast, and we work together.

Our unique and creative team keeps growing – frontend, mobile, marketing, and accounting. Seven new enthusiasts have joined Lloyds digital family. Together, we are making a difference.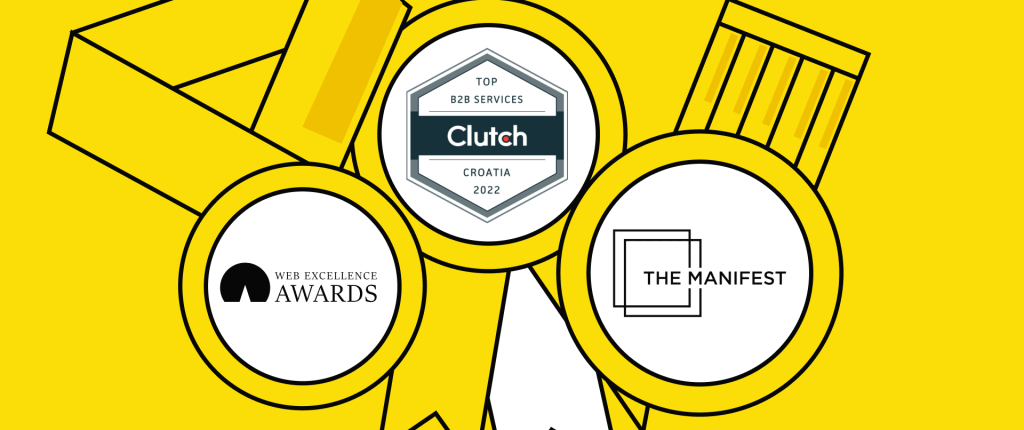 We do love winning.
Our company has been crafting digital experiences and solutions for years in Croatian and international markets. On that note, we proudly announce our latest awards for our dedication to the industry.
We stand behind every digital product and solution we do, and we are incredibly proud of each one, so when one of them is recognized and awarded, it's a pretty big deal to us. Each of these awards is an amazing opportunity to celebrate, and celebrations are our thing.
Clutch recognizes us among the top companies in Croatia
In 2022, we have been recognized by Clutch.co – the leading ratings and reviews platform for IT, marketing, and business service providers. Being ranked in the Top 10 fastest-growing B2B companies on Clutch.co is another step to continuously expanding our portfolio of satisfied clients and improving and strengthening our cooperation with existing clients.
The Manifest recognizes us as one of the most reviewed E-Commerce developers in Croatia
The Manifest has named us one of Croatia's most reviewed E-Commerce development companies. This was an incredible milestone for us! In case you are wondering – The Manifest is a business guide website aiming to gather and verify the hard data, expert insights, and actionable advice you need to build your brand and grow your business.
Our two amazing apps – Circle Diet and TP Line have won the Web Excellence Awards!
The first app that has been recognized is Circle Diet – an application that allows users to monitor their diet in a simple but personalized way. It can especially help people with allergies or intolerance to certain foods.
The second one that has been awarded is our TP Line application. Together with our clients, we have developed a modern app that allows users to buy one or more tickets in-app and secure their place on board quickly and easily.
Well done to the entire team; we couldn't be prouder.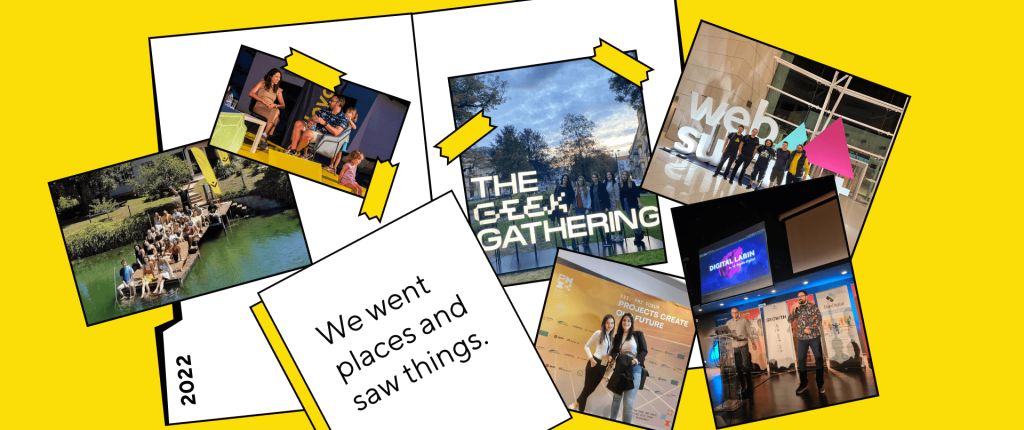 2022. happenings, travels, moments…
Krakow, Lisbon, Ljubljana, Novi Sad, Zagreb, Osijek, Ogulin… We've been places this year.
This was an amazing opportunity to learn about the latest technology, meet many incredible professionals, speak with many inspiring people, and leave feeling re-energized and excited. Those unforgettable experiences recharged our batteries for the new projects coming our way!
For the first time – we held our quarterly Štorije in public in the open air.
While the famous mining shaft of the City of Labin was glowing pink, we announced the comeback of Digital Labin 2022.
We held a panel discussion about the IT industry, and our panelists answered questions about the IT industry in Labin. Also, one of the main topics of this panel discussion was what it's like to work for one of the most creative agencies in Istria – and we told our story. We even organized a rock concert – pretty fun.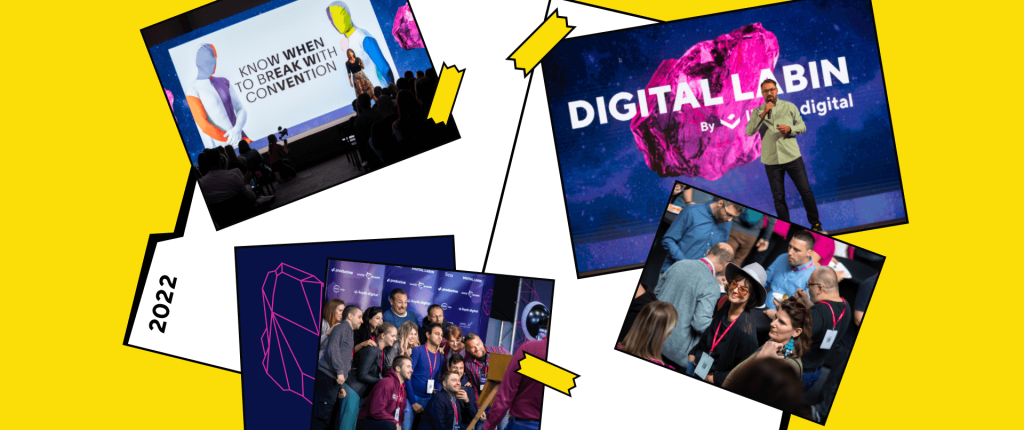 Digital Labin 2022. Full-scale international conference uniting all perspectives in the digital world.
After a two-year break, we are back with our biggest internal project – the Digital Labin conference, and to say that we are proud would be an understatement.
We started organizing this conference optimistically, decisively, stubbornly, and full of passion and new ideas for this year's edition. We knew we would take over Labin for two days and paint it pink, but we didn't know that we would sell out the conference and receive the maximum number of people we had physically prepared for! The conference had more than 600 visitors from Croatia, Bosnia, Serbia, and the rest of Europe.
Something big and unexpected was happening in this small, self-contained Labin – certainly not without reason.
And that's a wrap for 2022! Do you have any wine left in your cup?
Thank you for being a part of our story. Alone we can do so little. Together we can do so much.
We wish you happy holidays and a prosperous New Year.
Ho, ho, ho!