Back to blogs
News & Views
02. 06. 2023
Digital Labin is an Eventex Awards 2023 winner!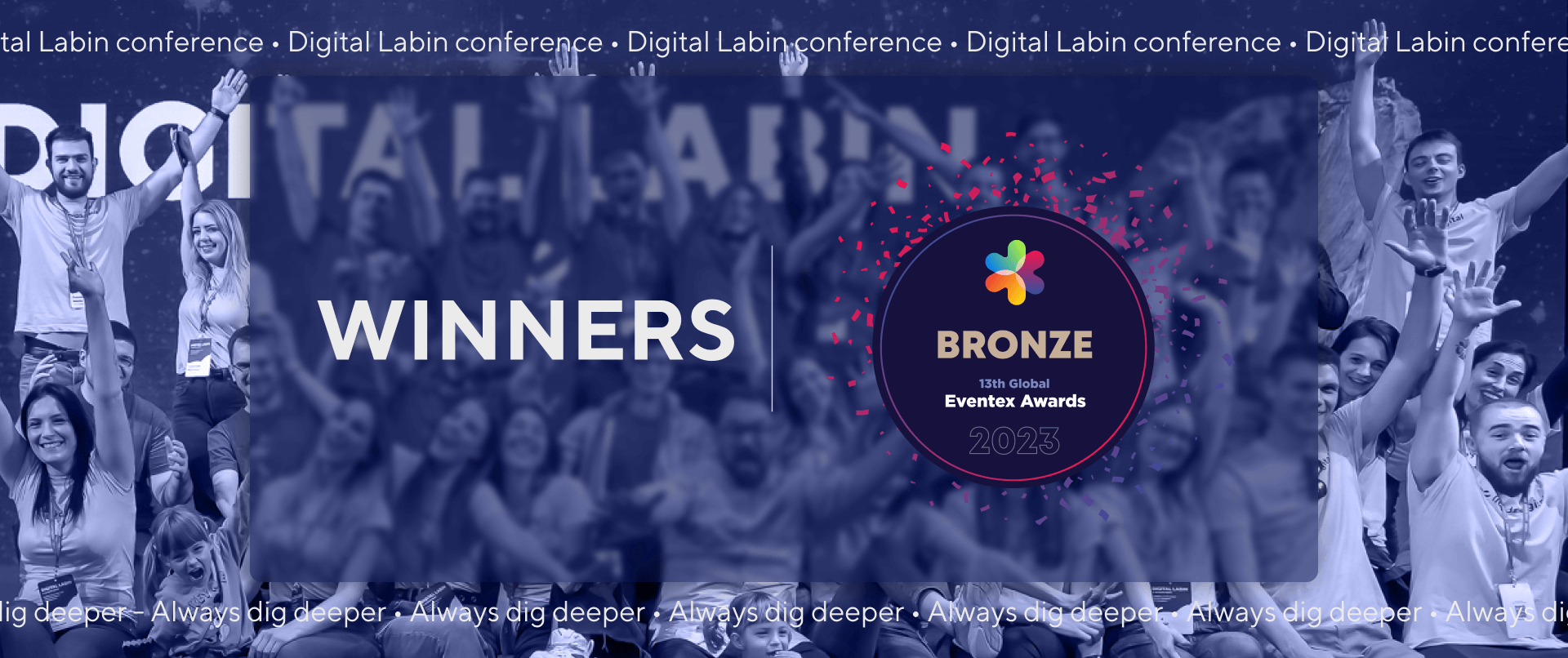 We are proud to announce that Digital Labin is among the winners in the 13th edition of Eventex Awards — the world's most esteemed accolade for events and experience marketing.
Digital Labin is an international conference for developers, digital designers, and project and account managers. This edition of 2022 had two simultaneous stages – one for UX/UI designers and the other for developers – this year, we are introducing the third track for Account and Project managers!
We had more than 600+ attendees and 20+ speakers from companies such as Google, Amazon, Kiwi, Spring&Summer, Shopify, Infinum, and more!
"With the world gradually returning to its pre-pandemic lifestyle, we are witnessing a remarkable surge in creativity and innovation, delivered by talented professionals who have wowed us with amazing event experiences. Winning an Eventex award is recognition for everyone in the Digital Labin conference organization team, so personally and on behalf of the whole Eventex team, I want to congratulate Digital Labin with what is an absolutely outstanding achievement.", comments Ovanes Ovanessian, Co-founder of Eventex Awards.
Eventex Awards 2023 received a record 761 entries from 49 countries. It's truly an honor to be recognized and awarded among so many other stellar events and projects from all over the world. One of this year's most notable winners includes FIFA World Cup Qatar 2022, which in addition to drawing the undivided attention of sports fans around the world, also drew in 8 Eventex awards in total. 
This incredible recognition is a testament to our dedication and hard work, and it's truly an indescribable feeling to see our efforts acknowledged on a global stage today. We're proud of our achievements and grateful to everyone who has supported us on this incredible journey, and we want to thank you for being a part of our success!
Grab your Early bird tickets for Digital Labin 2023 and join us for an amazing learning experience and connect with like-minded, talented professionals at the end of summer in Labin! 
We promise you great company, amazing food & drinks, industry insights & the best people – all in one place.
About Eventex Awards
Founded in 2009 to celebrate creativity, innovation, and effectiveness in the industry, today Eventex Awards is the most esteemed international awards in the world of events and experiential marketing. Every year, the awards highlight the best events, brand experiences, tech, and suppliers from the world of events.

The full list of winners is available here.